Before you go shopping for your Bikram Yoga clothes, think about what you'll feel comfortable wearing to class. Remember, the room is going to be hot.
A traditional Bikram Yoga class is heated up to 105F with 40% humidity. You'll be in there for an hour and a half so be prepared to sweat a lot. You'll want to wear minimal clothing that stretches easily and feels comfortable getting sweating and sticky in. For ladies, clothes for Bikram yoga generally mean shorts, capris, or leggings with a sports bra or tank top. For guys, this generally means any type of shorts with a liner. Shirts and tank tops are optional for guys.
Here is the clothes for Bikram yoga :
Best Hot Yoga Pants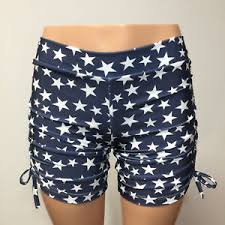 While it would seem that you'd want to wear the smallest shorts possible, Magee finds that tight-fitted capris are a better choice because sweating in shorts makes your legs too slippery, making it difficult to stay in arm balances like a crow. Lululemon's Wunder Under crops are Magee's favorites. While these pants are on the pricey side, Magee has good reason to think you are getting your money's worth.
"Many less expensive yoga pants get almost transparent when the student bends forward," Magee says. "Also make sure that you're buying pants that are big enough for you. If you have to stretch spandex too much to put it on and then stretch it again with a forward bend, suddenly you're wearing a window instead of a trouser." For the same reason, Magee strongly suggests wearing an undergarment of your choice to class.
Cropped Tights
Don't feel comfortable rocking shorts in class? Go for a pair of cropped tights (or leggings) to give your legs full coverage. One huge benefit to wearing tights is they allow for a sturdier grip over sweaty legs. When choosing a pair of tights, be aware of translucent material. Always opt for thicker material. Cheaper, the thin material may become see-through when you add sweat and bending over to the mix. To prevent any sort of embarrassing situation in class, do a wide-legged forward bend in front of the dressing room mirror when trying on a pair of tights. If you can see your underwear when you bend over, you can guarantee you'll be giving your yoga neighbors a peep show in class once you start sweating in class.
Sports Bra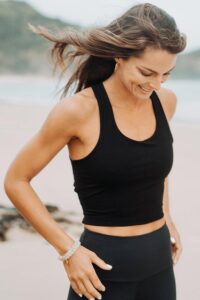 Since there's little to no impact in any of the Bikram Yoga postures, you won't need a sports bra with a whole lot of support. When choosing a sports bra for Bikram Yoga, it's all about choosing the coverage you're comfortable with. The type of sports clothes bra to wear in Bikram yoga class is one that fits snug even after start sweating, fully covers my front side, and has sturdy back straps to hold everything in place. Don't feel comfortable with just wearing a sports bra in class? Neither did for the first month of practicing Bikram Yoga. If you want more coverage on top of your sports bra, choose a tank top as long or as short as you feel comfortable in. Avoid wearing cotton and steer clear of anything baggy. Cotton absorbs sweat, making it feel heavy during class. Loose-fitting tank tops can fall forward in downward poses making them super annoying and uncomfortable. Comfort is key when taking a Bikram Yoga class so if you choose to wear a tank top, choose one that's form-fitting and made of sweat-wicking material. A close-fitting tank top or sports bra is the best choice. Avoid oversized T-shirts that may fall down during poses like downward-facing dogs. It's not ideal to wear 100% cotton tops because they absorb sweat and become heavy.
Magee recommends looking for wicking athletic fabrics that will help you feel drier.
Shoes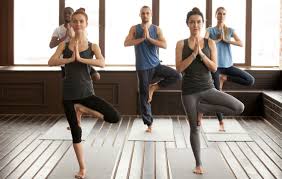 Leave your shoes at the front door. Some studios allow you to wear shoes into the changing room, but they should NEVER be worn inside the yoga studio. Bare feet or socks are only allowed in the practice room.
Whatever you decide on what your Bikram Yoga costume will be, always remember the lighter you dress, the better you'll feel in class. Choose a costume that's form-fitting and made of sweat-wicking material. Don't make the same mistake. Cotton is rotten! It will weigh you down and make you feel more uncomfortable than you should be. Nowadays, my yoga costume consists of sweat-wicking, form-fitting boy shorts, and a sports bra. Trust me, the class has gotten quite a bit cooler and more enjoyable since you made the wardrobe adjustment.
Best Hot Yoga Mat and Props
Magee likes Manduka's Black Mat PRO for its durability, thickness, and grip (even when wet). If she needs a little extra traction in poses like downward-facing dog or triangle pose.
For blocks, Magee has had good results with Hugger Mugger. "They seem to be dense enough that they don't really absorb the sweat and they sanitize nicely with tea tree oil and water," she says.
Comfort is key when taking a Bikram Yoga class
CLICK HERE For More Course Inclusions and Our June Main Event